BMO: Lowest Expected Return Of The Big 5
Summary
BMO has the longest track record of the Canadian banks and the best dividend streak in the country.
The bank has performed well across all segments, but doesn't stand up in key metrics.
BMO is a hold today based on poor expected returns and overvaluation.
This article covers recent results and outlook for the Bank of Montreal (NYSE:BMO). It is the fourth in a series of articles covering the big 5 Canadian banks, and you can find the first 3 covering The Royal Bank of Canada (NYSE:RY) here,
The Bank of Nova Scotia (NYSE:BNS) here, and the Toronto-Dominion Bank (NYSE:TD) here. Stay tuned for a wrap-up in my upcoming article on the final bank, The Canadian Imperial Bank of Commerce (NYSE:CM).
BMO is unique among the Canadian banks due to its illustrious history, even by their high standards. This year is the bank's 200th year of operation, and it has paid dividends continuously for an astonishing 188 years, the longest of any company in Canada.
The financial crisis caused a dividend freeze, but not a cut, and growth resumed in 2012. Although the bank has the longest history, it has been outstripped in market capitalization by all of the other banks with the exception of CM.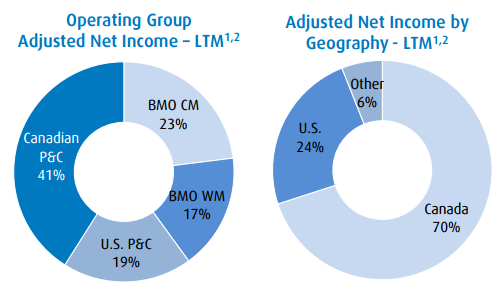 Generally speaking, all of the big Canadian banks have been good investments over time, and held up well during the financial crisis. This combined with conservative capital management and generous dividend histories have gained a loyal following of long-term investors.